The old man and the river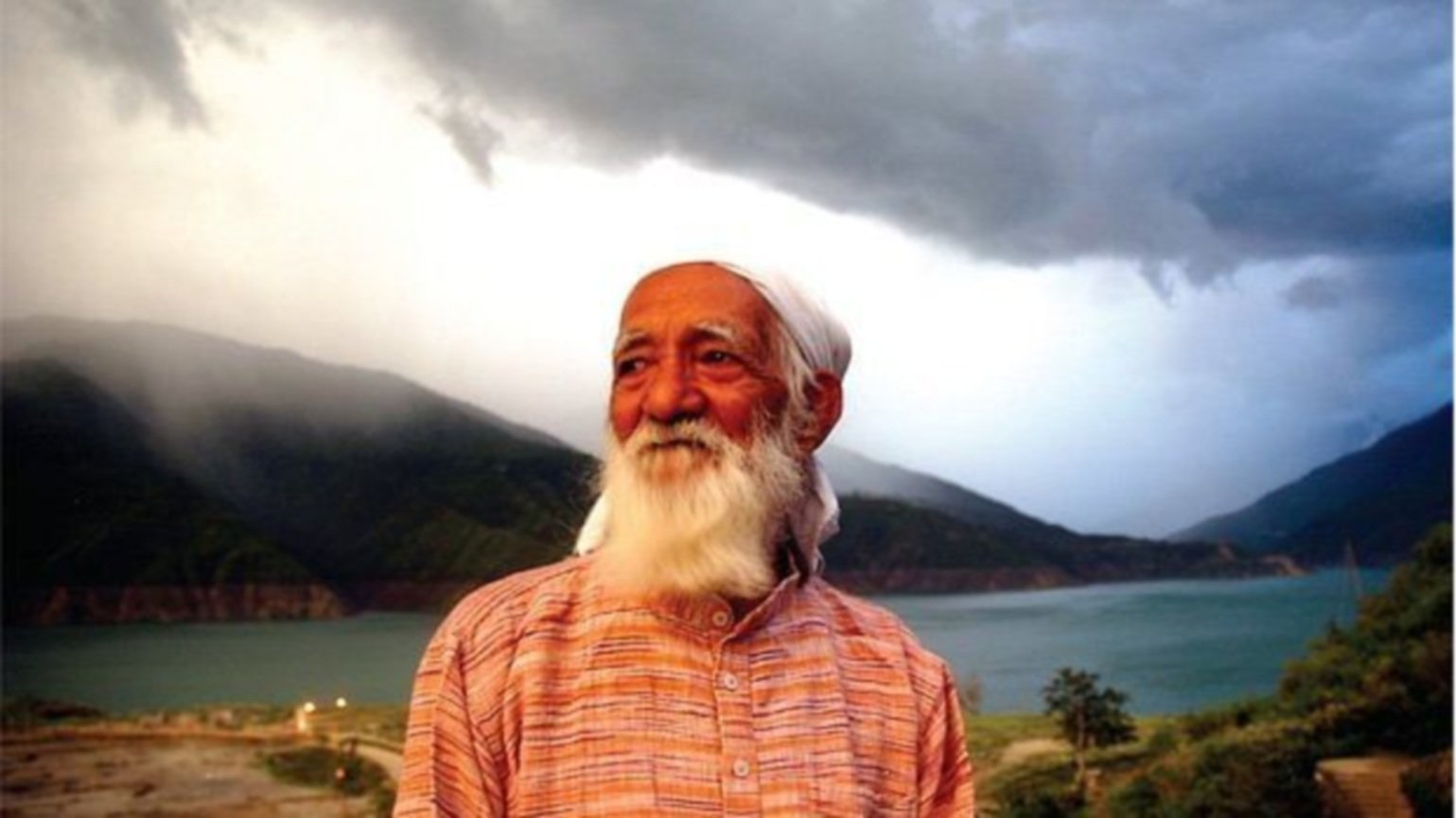 The passing away of Sunderlal Bahuguna is the departure of one of the last remaining stalwarts battling for environment conservation employing Indic knowledge and practices. Born in 1927, in a small village on the banks of the River Bhagirathi in Tehri-Garwahl (Uttarakhand), Sunderlal Bahuguna took on not just environmental issues but a myriad social issues as well. Associated with the Chipko movement since its start in 1973 and then resisting the construction of the Tehri Dam right through the 1980s to 2004; it was a long struggle marked by peaceful protests, padayatras and hunger strikes finally culminating in a plea to the Supreme Court.
Shri Bahuguna along with other activists like Virendra Datt Saklani (freedom fighter and founder of the Tehri Bandh Virodhi Sangarsh Samiti) and Kadambari Devi (anti-liquor activist and Datt's wife), brought to the Court's cognizance – the obvious consequences of the enormous Tehri Dam project-. They argued that building large dams will block the natural springs that provide water to Bhagirathi which would eventually kill the river. It was imperative, they had said, to examine the impact of such a large project on the downstream populations in the holy cities of Devaprayag, Rishikesh and Haridwar. The main argument against Tehri dam was that it being located in a highly earthquake-prone area, the safeguards incorporated in its construction were not capable of withstanding high-intensity earthquakes.
He lost this legal battle in 2003, and later in 2004 at the age of 77 years, Bahuguna was evacuated from his home in Old Tehri. Despite all this, he never felt defeated and his resolve to save the Himalayas grew stronger. Bahuguna's fight to save the ecology of the region remained immutable.
As early as the 1970s, he was one of the first voices in India to warn us against the dangers that lay ahead due to rapid deforestation in the hills, the blasting of mountainsides and valleys, building of huge hydroelectric power plants that alter the flow of rivers and constant tampering with the Himalayan ecosystems. He foresaw very early that the 'development' model of the West that was being accepted and universalised, was gradually replacing local traditions, customs and indigenous knowledge that had helped sustain local communities since ages. This alien one-size-fits-all model of development in the form of new 4 lane wide highways, rapid urbanisation, creation of industrial 'corridors' and zones in the sacred landscapes of the Himalayan hills led to displacement of people, break up of communities and livelihoods and forced migration, taking a toll on existing agricultural practices. Blasting of rocks and mountains for highways and roads would be the death knell of the Tehri-Garwahl region. If anyone knew the Western Himalayans well, it was Bahuguna. Having walked all across the region, from Kashmir to Kohima, his long marches across the Himalayas made his local struggles felt across the hills. He knew well that what was beginning to happen in Tehri would soon be witnessed in the rest of the Indian Himalayan Region.
Bahuguna passionately advocated an ecologically-sound use of India's natural resources. In context of the Tehri dam, Bahuguna had once said – "If the next generation of India has to survive, then the greenery of Himalaya and the purity of Ganga need to be protected…Ganga doesn't just belong to three states but to the whole nation. Big dams should not be built at all." Speaking in favour of small traditional dams in place of huge cement structures like the Tehri dam, he had said that "If (such) dams are built, the Himalayan rivers will die. And if rivers like Ganga die, no river in India will survive".
His message was loud and clear – 'Ecology is Economy'. If in the name of development, we destroy our forests, rivers, mountains, our flora and fauna, we are destroying our economy. Almost fifty years since Bahuguna started his crusade, our forests are disappearing faster than ever, ecological degradation is stark and widespread, our rivers continue to be dammed, our air and water is polluted if not yet toxic, tribal communities are being displaced, and livelihoods that passed from generation to generation are vanishing. The death of our rivers and the increase in natural disasters in the Himalayan region was exactly what he had warned us about. The Himalayan region, like every other vulnerable natural region in India, has since witnessed multiple natural calamities and immeasurable casualties.
Recently in 2018, at the age of 91, he had again asserted that large dams were paving the way for huge calamities in Uttarakhand and expressed grave concern about the lakhs of trees felled to make way for the Char Dham road. He said that as a consequence of  the Char Dham Highway Project, "We would lose the entire forest ecosystem" and that would be devastating for the state. Undeniably, new landslide zones are being formed by the construction of 900-kilometre-long Char Dham highway.
Tributes have been pouring in on the passing away of Bahuguna, and lofty words of praise and admiration showered by politicians of all hues from across country; yet all of them failed him. When they had the chance to stand with him and save our sacred rivers, mountains and forests, they instead forced his beloved Uttarakhand into unbridled development. Sunderlal Bahuguna is irreplaceable, just as those forests and rivers he tried to save all his life. We have lost him forever, and there is but little time to act so that the sacred ecology he has inspired us to fight for is not lost too.
Om Shanti